DepthQ®/ Lightspeed Design, Inc.
provides both
3D systems integration
for permanent installations as well as
3D support services
for surgical clients requiring 3D visualization at lectures, trade-shows and conferences.
3D SYSTEMS INTEGRATION
Since 2005, DepthQ
®
/ Lightspeed Design has supported prestigious hospitals and universities with advanced DepthQ
®
HD 3D stereoscopic visualization systems - especially those facilities using Intuitive Surgical's
da Vinci
®
series of robotic surgical systems.
DepthQ
®
HD 3D stereoscopic visualization systems all incorporate powerful DepthQ
®
Capture
TM
and DepthQ
®
Player
TM
software to process and monitor operations in realtime, while providing push-button 3D recording of surgical procedures for later review.
The baseline 3D DepthQ
®
system is designed to be a stereoscopic visual aid for patient-side assist, and to improve communication in the OR, where it is directly connected to the
da Vinci®
Surgical System.
But stereoscopic visualization of surgical procedures is also highly valuable beyond the OR. To this end, we can extend the reach of your OR 3D visualization to satellite locations such as remote conference rooms, offices, even theaters.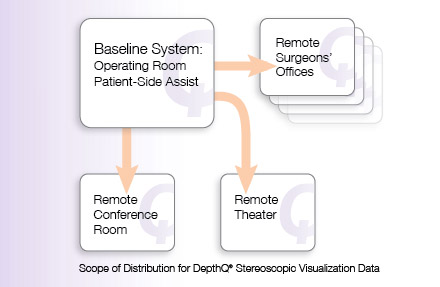 Stereoscopic 3D display options range from front or rear projection to desktop or wall-mounted LCD monitors to the
DepthQ® MobileTM 3D Visualization Cart
. Signal distribution can vary from HDMI or HDSDI cable to fiber optic or LAN.
In the video below we are utilizing both fiber optic as well as HDMI to extend the reach of our client's live and recorded 3D surgeries to 8 separate locations spanning 14 floors of the hospital. These include an additional wall-mounted monitor in the 3rd floor OR as well as the chief surgeon's office, plus six mobile 3D monitors - two in a 5th floor conference room and four in a 17th floor conference hall/auditorium:

DepthQ&reg Systems Integration at 301 Hospital in Beijing
As authorized resellers of top-quality visualization products, we excel at identifying and integrating the best combination of components to solve any 3D visualization challenge.
For more information please use our Contact Form,
or call +1.206.784.1385
TRADESHOW, CONFERENCE & LECTURE SUPPORT
DepthQ
®
/ Lightspeed also provides stereoscopic support services for surgical clients requiring 3D visualization
outside
the hospital. With extensive experience in digital theater installations, corporate show production, and media technologies, we are well qualified to support your presentation, large or small.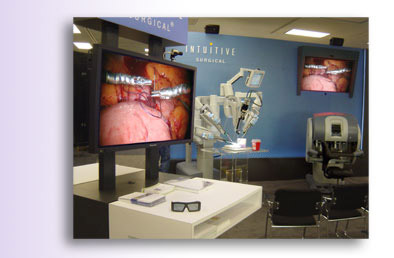 For example, DepthQ
®
/ Lightspeed provides complete stereo 3D visualization for Intuitive Surgical at many international and national conferences and events. Pictured above: the AAGL conference in Washington DC.
The system included a 56" HD 3D monitor, two computers, 20 LC shutter glasses, software and on-site technical support; and provided both realtime aquisition of stereoscopic output from their
da Vinci
®
S HD
TM
, as well as HD playback of pre-recorded surgeries. In addition, one eye was independently routed to support nine 2D plasma monitors placed around the booth.
Whether it's a conference room, trade show booth, lecture hall or larger, DepthQ
®
/ Lightspeed has the technology and expertise to assist you in engaging your audience like never before.
For more information please use our Contact Form,
or call +1.206.784.1385