DepthQ®/ Lightspeed Design
is a licensed distributor for many excellent product accessories well-matched to the DepthQ
®
HDs3D2 Projector. Additionally, a large variety of accessories are available online directly from
the InFocus Store.
For your convenience, here is a list of some of the most popular items. Click on any of the categories below to jump to the relevant accessories.
EYEWEAR
The DepthQ
®
HDs3D2 projector displays a progressive time-interleaved stream of left and right images at 120 or 144 frames per second. Special 3D glasses are then worn to decode the images - these fall into two categories: ACTIVE or PASSIVE.
Polarized glasses
(aka Passive 3D Glasses)
use inexpensive orthogonally polarized lenses to pass light of one polarization while blocking the other orientation. In order for this technique to work, the light emitted from the projector must be polarization-encoded in sync with the left and right images. This is accomplished by adding a
DepthQ® Polarization Modulator
. The modulator is connected to the projector via a sync cable, and placed in front of the lens. A silver screen is then required to maintain polarization to the viewer.
Liquid crystal (LC) shutter glasses
(aka Active 3D Glasses)
are worn to alternately block images over time, so the right eye sees only the right image and the left eye sees only the left. This is accomplished by wirelessly synchronizing these 'active' glasses with the image stream, typically via an infra-red (IR) signal, though radio-frequency (RF) glasses are sometimes used.
Active Stereoscopic 3D (s3D) eyewear is manufactured by a variety of companies in two different categories: Professional and Consumer. The following are among the most highly recommended models:
Professional s3D Active Eyewear

nVidia
3DVision PRO
More Info

XpanD
X103


XpanD
X105

Consumer s3D Active Eyewear
s3D Passive Eyewear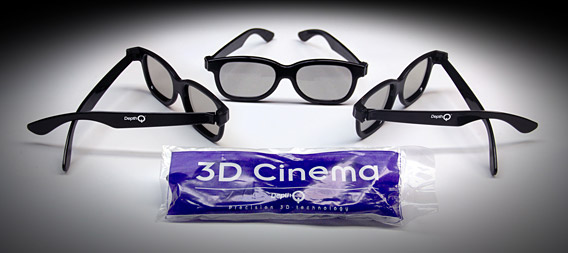 DepthQ
®
offers comfortable, light-weight, 3D Cinema circular polarized adult glasses optimized for the
DepthQ® Polarization Modulator
and compatible with any industry standard passive polarized 3D digital system. Millions of pairs have been sold worldwide.
PRICING
The 3D glasses market is becoming increasingly price competitive and confusing day-by-day. Our pricing is fair and includes the required supply chain management that assures quality control - from Chinese manufacture through shipping. We know that there are vendors selling product that is not technologically correct for cinema and/or of very poor quality, often made from substandard plastics and re-used polarizing material. Many Cinema owners are not aware of these issues. Our expertise assures that your guests will enjoy the very best 3D experience possible.
Kids glasses are available upon request.
Please
contact us
for pricing.
Infra-Red Emitters for Active Eyewear

As with active s3D eyewear, there are multiple manufacturers and models of the IR emitters necessary to drive them. Emitter types also vary and can include either Infra-Red (IR) or Radio Frequency (RF).
In the end, choosing which eyewear and emitter/encoding technology is right for your setup will depend on a number of factors, including room size, operation time, form factor, computer hardware, number of viewers, etc. Please
contact us
for consultation and pricing.
Back to top
Back to top
Back to top
Back to top
Back to top
Back to top
Back to top