DepthQ® HDs3D-1 Projector Specifications

Display:
Display Technology - DMD:
DLP® by Texas Instruments: 0.65" LVDS DDP2431
with BrilliantColorTM
Native Resolution:
WXGA (1280x720)
Brightness:
(max ANSI Lumens)
3D Mode:
Up to 2700 Lumens depending on configuration

2D Mode:
Approximately 3500 Lumens (standard mode)
Approximately 2800 Lumens (eco mode)
Contrast Ratio:
2100:1 Typical
Stereoscopic Compatibility:
120 Hz vertical sync page flip active stereo
Delay:
8.33ms (one frame)
3D Aspect Ratios:
16:9 or 4:3
3D Compatibility:
WXGA (1280x720), XGA (1024x768), SVGA (800x600)
2D Compatibility:
NTSC / NTSC4.43 / PAL / PAL-M / PAL-N / SECAM
SDTV: 480i, 576i
EDTV: 480p, 576p
HDTV: 720p, 1080i, 1080p
3D V-Sync:
120Hz
3D H-Sync:
77-100kHz
2D V-Sync Range:
50-120Hz
2D H-Sync Range:
15-100kHz
Throw Ratios (approximate):
Minimum Throw Distance = Horizontal Screen Size * 1.5
Maximum Throw Distance = Horizontal Screen Size * 1.8

Image Offset (approximate):
115% Vertical (with a level projector, a 1 meter tall screen requires approximately 1.15 meters from lens centerline to top of screen)
Projection Methods:
Front Projection, Rear Projection, Ceiling Front, Ceiling Rear
Keystone Correction:
Automatic, +/- 30 degrees Vertical
Lamp Power:
High Bright: 280 Watts
Lamp Life‡ :
High Bright: 3000 Hours
Eco Mode: 4000 Hours
Inputs and Outputs:
2D/3D HDMI 1.3:
Number of Inputs: 1
2D/3D VESA (HD15):
Number of Inputs: 2; 15-pin VGA
(selectable, not independent L/R inputs)
2D S-Video:
Number of Inputs: 1; 4-pin mini-DIN
2D Composite (RCA):
Number of Inputs: 1
2D DisplayLinkTM:
Number of Inputs: 1
Projector Control:
Projector Keypad, Remote, LAN (RJ45), DisplayLinkTM (USB), RS-232
Audio:
Two 3.5 mm Mini-jacks
One DisplayLinkTM
Monitor Output:
10W (Two 5.0 Watt speakers)
General:
Audible Noise:
34 dB High Power
30 dB Eco Mode
Power Supply:
100 - 240 Volts AC at 50 - 60 Hz
Dimensions:
Width: 12.4 in (31.5 cm)
Length: 9.5 in (24.1 cm)
Height: 4.6 in (11.7 cm)
Weight:
7 lbs (3.17 kg)
Shipping Dimensions:
Width: 16.5 in (41.9 cm)
Length: 12.8 in (32.5 cm)
Height: 9.0 in (22.9 cm)
Shipping Weight:
14.3 lbs (6.48 kg)
Warranties:
Parts: 5 years
Labor: 2 years
Lamp: 6 months
Accessories: 90 days
Menu Languages:
English, French, German, Italian, Korean, Norwegian, Portuguese, Russian, Spanish, Simplified Chinese, Traditional Chinese, Swedish, Finnish, Danish, Dutch, Polish, Turkish
Ships Standard With:
Lamp. 3000 hour rated lamp life.
Power Cord (US), 6ft/1.8m
DVI to HDMI Computer Cable (6.6ft/2m)
VGA Computer Cable (6.6ft/2m)
Soft Carry Case (Soft-Carry-Case)
Navigator 3 Remote
Approvals:
C-Tick (Australia), NOM (Mexico), CE (Europe), cMETus (US/Canada), FCC (USA), IRAM (Argentina), GOST (Russia), MIC & eK (South Korea), CCC (China), PSB (Singapore)
Reliability and Security:
Reliability – DepthQ® HDs3D-1 Projectors are dust-free systems. There aren't any fan filters or lamp screens to change, which makes for 24x7 certified operation, providing around the clock, maintenance free projection.

Security – Kensington lock and PIN code feature will keep the projector in the proper location and under authorized use.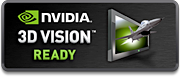 Products carrying the NVIDIA
®
3D Vision
TM
Ready Logo are designed and tested to ensure seamless compatibility with NVIDIA 3D Vision and deliver the best quality, most immersive 3D experience possible.
‡
Actual lamp life may vary based on the ambient environment. Conditions that may affect lamp life include temperature, altitude or rapidly switching the projector on and off.
Lightspeed and InFocus reserve the right to alter product offerings and specifications at any time without notice.
DepthQ is a trademark of Lightspeed Design, Inc. InFocus is a registered trademark of InFocus Corporation or its subsidiaries in the United States and other countries. Digital Light Processing, DLP, the DLP medallion, and BrilliantColor are trademarks of Texas Instruments. All rights reserved.