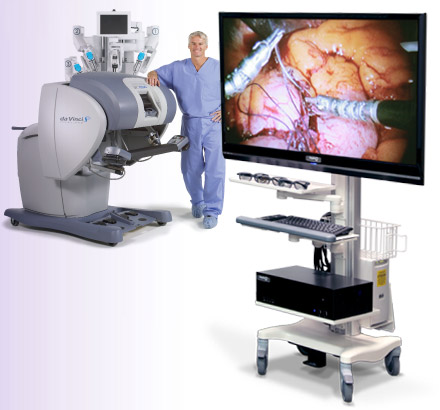 DepthQ® / Lightspeed Design, Inc. has been engineering and installing custom stereoscopic visualization centers and systems since 1997.

Among those installations are a rapidly growing number of systems designed to visualize, record, and even broadcast
live stereoscopic surgical procedures, such as those
from Intuitive Surgical's
da Vinci
®
series of robotic surgical systems.
3D support systems like the
DepthQ Mobile™ 3D Visualization Cart
are typically installed both in the OR as well as a nearby conference room. Mobile systems can extend their usefulness to trade-shows, conventions and lectures.
DepthQ Systems Integration at 301 Hospital in Beijing
ESTABLISHED INNOVATORS
Lightspeed constantly tests new innovations and actively develops leading-edge 3D projection and software technologies in-house - from the world's first portable single-lens stereoscopic DLP® projector, to the DepthQ Mobile™ 3D Visualization Cart, to our high-end stereo 3D HD capture and playback software.


RESPECTED 3D SYSTEMS INTEGRATORS
Above all we are valued custom systems integrators, and authorized resellers of top-quality visualization products, including those from NEC, Christie Digital, Xpand, RealD/Stereographics and Da-Lite & Stewart Filmscreens. We excel at identifying and integrating the best combination of components to solve any 3D visualization challenge.

Additionally, Lightspeed provides stereoscopic support services for surgical clients requiring 3D visualization at lectures, trade-shows and conferences.


SELECT SURGICAL CLIENTS:
Intuitive Surgical Systems, Qatar Robotic Surgical Centre, 301 General Hospital Beijing (Chindex), Abbott Northwestern Hospital Minneapolis, Roswell Park Cancer Institute, St. Joseph's Hospital Atlanta, Clinique Générale-Beaulieu (Geneva), University of Minnesota, Ohio State University, the First and Second Czech Congresses on Robotic Surgery (Hospimed)...