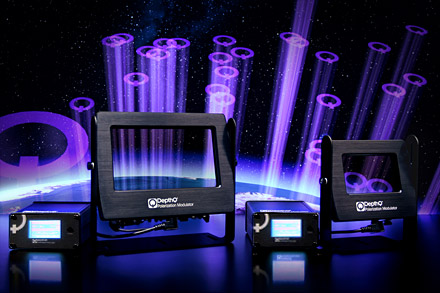 Newly patented technology* makes DepthQ the world's fastest polarization switch for advanced 3D visualization.
With a powered, symmetrical
50 µsec
switching time between the eyes, DepthQ easily ensures bright, low-crosstalk operation - even at the upcoming 3D HFR
(high frame rate) targets of
192 FPS, 240 FPS...and beyond.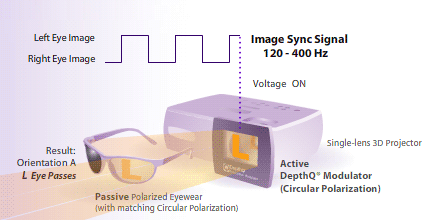 The new DepthQ Polarization Modulators electronically switch the polarization orientation of light passing through them. In combination with a polarization-preserving screen and a single-lens stereoscopic 3D projector (as bright as you need - no lamp/Lumens limit with the large modulator), this enables high-brightness, low-ghost viewing using lightweight & comfortable circularly polarized passive 3D eyewear.
NEW! We now offer linearly polarized solutions as well.1 Contact us.
The DepthQ Polarization Modulator for Digital Projection
Bright
World's Smallest Dark Time
Newly Patented
Made in the US and Sweden
Highest Quality Parts & Manufacturing
Five Year Optical / Three Year Electronics Warranty
Future-Proof
Available in both circular and linear1 versions
TECHNICAL DESCRIPTION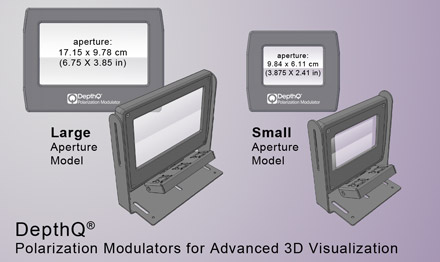 *LC-Tec Displays AB U.S. Patent No. 8023052 B1
An unprecedented 50 microsecond symmetrical switching time makes DepthQ the world's fastest polarization switch for 3D digital projection.
By actively alternating between 'left-handed' and 'right-handed' circular polarization orientations in sync with progressive L/R stereoscopic data, standard circular polarized eyewear can passively block or transmit light to the viewer's eyes for the appropriate image. This efficient, high-speed switching between the eyes ensures bright, low-crosstalk, flicker-free 3D whatever your flash rate - be it 100Hz, 120Hz, 144Hz or as high as 400Hz.
With high frame rate (HFR) projectors capable of 192 and 240Hz already being marketed, this ensures a future-proof investment.
The system includes both the liquid-crystal modulator as well as its control unit. A standard sync output from your graphics card or projector is supplied to the control unit, which then conditions the signal to match the modulator's required input.
The modulators are available in two sizes: Small, with a 16:10 ratio aperture of 9.84cm wide (3.875in) for projectors up to 4K Lumens, and Large, with a 16:9 aperture of 17.15cm wide (6.75in) for projectors up to 34K Lumens.
The optical window of the large modulator is also heat-protective, employing a nano-scale metal-on-glass pre-polarizer to reflect thermal energy and ensure longevity.
Paired with projectors up to 34K ANSI Lumens, DepthQ polarizers provide a compelling 3D experience for polarization-preserving screens up to 18.3m (60ft).
For more detailed specifications, please see our DepthQ Modulator PDF.
NEW! We now offer linearly1 polarized solutions as well. Please specifiy when requesting info. Contact us!
Back to top
DEPTHQ POLARIZATION MODULATOR ADVANTAGES
Viewer Comfort
Passive glasses are very lightweight
Single-projector solution eliminates possibility of geometric asymmetry between eyes
No vertical or horizontal parallax problems
No bulb differences (intensity and color temperature over time)
Ease of set-up
Modulator placement is simple and forgiving - just set it in front of the projector
No time-consuming alignment of superimposed images required
Lower Cost/Maintenance
No moving parts
Less hardware than two projector solutions
No high-power Infra-Red emitter necessary
Passive eyewear is inexpensive
Options for Viewing
Passive glasses are available in a variety of form factors -
from paper, to plastic, to wire-frame
Versatility
Enables a wide range of applications - from theme parks to scientific & industrial visualization
Flexible Pricing
Pricing model reflects application and use
Back to top
Now Shipping! Lightspeed Design is the exclusive worldwide distributor of the DepthQ Polarization Modulator.
To purchase or for more information please use our Contact Form, or call +1.206.784.1385
---
1
Switch time of linear models is approximately 1ms.