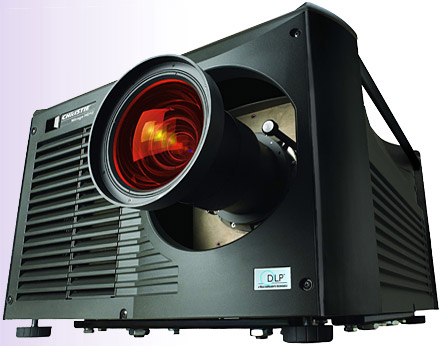 DepthQ® / Lightspeed Design, Inc. is an authorized reseller of Christie® Digital's Mirage Stereoscopic projectors, and is proud to offer these high-quality Christie products to our 3D Theater and Industrial Visualization clients.
The Christie Mirage Series offers the broadest range of 3-chip 3D active stereo projection in either a single projector, or a multi-projector array. Brightness ranges from 3000 to 18,000 ANSI lumens. SXGA+, HD and the latest 4K (4096x2160) models are designed specifically for use in a variety of 3D applications for all types of immersive environments including large theaters, CAVE-like systems and curved or flat screen power walls.
Featuring native 120Hz frame rate, built-in geometric warping and edge-blending capabilities and multiple 2D/3D input options, the Christie Mirage Series is a powerful and versatile platform for any 3D/visualization application. Designed for long-life operation and reliability, and backed by Christie's trusted service and support, the Christie Mirage Series is the ideal choice for your complex projection needs.
DISPLAY TECHNOLOGY
Featuring high-quality DLP
®
technology, the Christie Mirage Series is highly reliable, delivers high brightness and unsurpassed color, brightness uniformity and control capabilities. As well, this proven digital technology is low maintenance with greater than 650,000 hours Mean Time Between Failure (MTBF).
IMAGE QUALITY
The Christie Mirage Series projectors are illuminated by Xenon lamps. They deliver superior image quality and the ability to color-match multiple projectors for extremely bright, color rich, uniform images - whether multiple projectors on a single screen, or multiple screen displays.
IMAGE PROCESSING
With 10-bit image processing, the Christie Mirage Series offers high bandwidth signal processing. The S+ series feature 220MHz bandwidth that supports a 3D refresh rate of 115Hz at SXGA+ and 120Hz at SXGA. Unique to the HD and WUXGA series, refresh rates are processed up to 120Hz with full 1920 x 1080 resolution. The Mirage 4K offers
full 4096 x 2160 resolution at 120Hz for 3D - a world's first.
3D content can be supplied to the Mirage 4K 3D projector via 4x Twin DisplayPort input cards, or optional Dual link DVI, Twin HDMI or Dual 3G HD-SDI. 3D content can be supplied to the S+, HD and WUXGA projectors over single link DVI-D, analog and/or optional HD-SDI connections.
The Mirage S+, HD and WUXGA models support Picture-in-Picture functionality with simultaneous multi-sources stereo and/or mono viewing in foreground, background or both windows.
EASE OF USE
A user-friendly Graphic User Interface (GUI) makes operation and set-up of the entire Christie Mirage Series uncomplicated. The GUI enables full and easy control of the projector. Multiple control options let the user choose what's best for their application - built-in, IR and wired remote keypad; RS-422 or RS-232 control; or through ChristieNET™ via the Ethernet port. Motorized lens functions provide power focus, zoom, horizontal and vertical offset - all at the touch of a button. Auto set-up recognizes sources and sets correct brightness, contrast and position.
SERVICEABILITY
Operation and maintenance of the Christie Mirage Series is easy as well. Quick internal access with 1/4-turn screws, a quick-change ballast, a removable image processing module, field-alignable DMDs and a cleanable optical engine, puts full control in the hands of the user. Replacement lamp costs are low and Christie offers the best warranties on the market.
ACCESSORIES
STANDARD ACCESSORIES
IR keypad (w/batteries)
Line cord
Stereo sync harness
User manual
OPTIONAL ACCESSORIES
The DepthQ Polarization Modulator for passive 3D visualization
Fixed and zoom lenses available with throw ratios
from 0.67:1 to 7.3:1
Christie Twist™ image warping module with enhanced edge-blending
Wired remote control and RS-422 two way controller
Ethernet, RS-232, RS-422 cables
Service manual
KoRETM 10-bit librarian
Lens adapter (for competitive lens)
Remote IR sensor